Brother Jacoba Community
a Fraternity of the Secular Franciscan Order in Chicago
Every 3rd Saturday of the month at 2:00pm Central Time in St. Peter's-in-the-Loop Catholic Church.
Formation News
Congratulations and welcome to our newly professed fraternity member, Eleanor Holley, OFS!
Members of Brother Jacoba Community are single, married, or ordained Catholics who pray Morning Prayer and Evening Prayer, participate in monthly fraternity gatherings, and strive to live their lives in conformity with the Franciscan spirituality.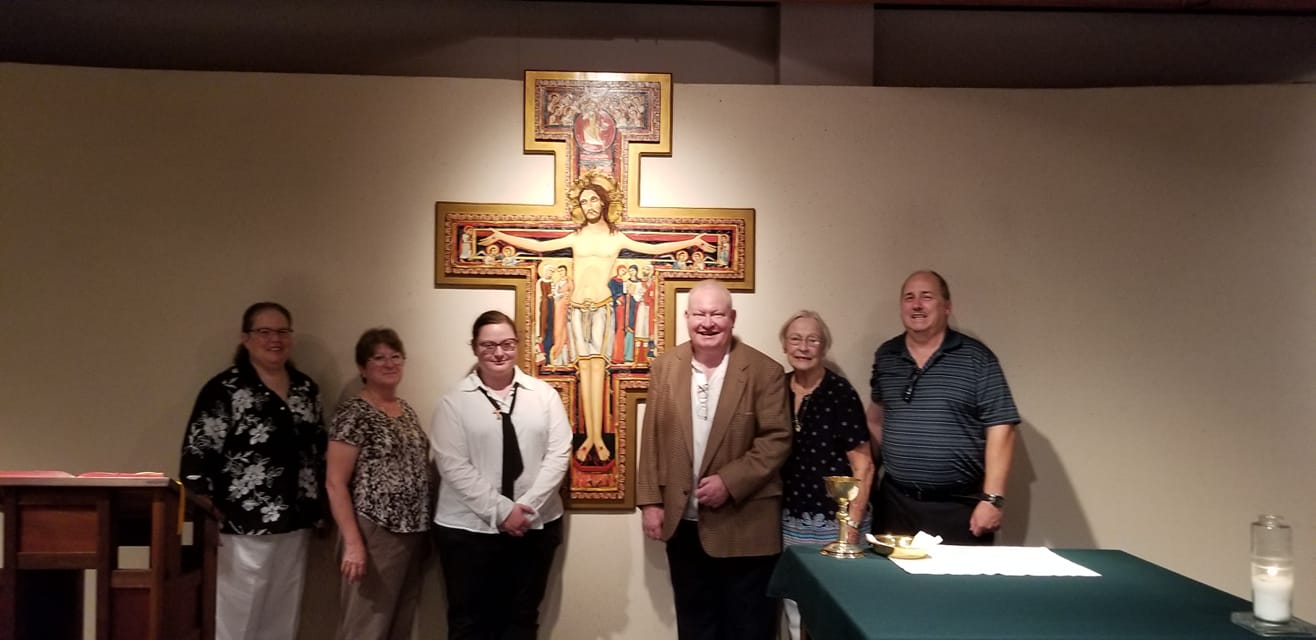 About Our Local Fraternity in Chicago
We are Brother Jacoba, one of three fraternities in the Loop. We meet every third Tuesday of the month at 6pm at St. Clare Auditorium in the lower level of St. Peter's-in-the-Loop.
Vision:

We strive to live for perfect charity, humility, and simplicity in our own secular state, to live the Gospel in the manner of St. Francis.

What We Do:

As professed members of the Secular Franciscan Order, we observe the Gospel of our Lord Jesus Christ by careful reading of the Gospel, going from Gospel to life and life to the Gospel.

Our Community:

We are a small group of Secular Franciscans founded in September 2000, here at St. Peter's-in-the-Loop.
The Mother Cabrini Region is made up of the local fraternities of the dioceses of Chicago, Joliet, and Rockford. We meet as a region several times throughout the year for formation, study, and celebration in the Gospel life.
The U. S. National Fraternity (TAU-USA) is composed of all regional Secular Franciscan fraternities in the United States. Their website has many great resources for learning more about the Order, finding a local fraternity, and keeping up with the Secular Franciscans across the United States.
The Secular Franciscan Order is an international organization, founded many centuries ago by St. Francis of Assisi. The International Council unites the many local, regional, and national fraternities across borders and languages.
Contact
If you have any questions or would like more information about Brother Jacoba Community or the Secular Franciscan Order, please feel free to email [email protected]